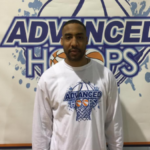 POST PLAYER SPECIALIST
Duke Freeman-McKamey is a monster rebounder who can provide a big body in the post. In addition to having an excellent body
for interior play, he's also very dangerous inside and outside the paint. His soft touch allows him to hit off from 17 feet and also from
3pt range. Has a great baby hook, especially with the right hand, really unstoppable. Defensively can guard centers and power forwards. Duke is very fast in transition and is a high energy player with leadership qualities. He is a great coach for anyone looking for a post coach to help their player with rebounding, post moves, and post defense.
Career Highlights
1999-2000=Nike ESPN NIT All-Star Trip to Europe
2000-2001=Fordham 10.5ppg, 6.9 rpg
2001-2002=Fordham 7.1ppg, 6.9 rpg, & 0.8 apg
2002 Rucker Park League Champions
2002 Drafted by Brooklyn Kings
2002=Brooklyn Kings 5.2ppg, 6.5 rpg, 10 apg
2002 Drafted by Roanoke
Awards/Achievements
Atlantic 10 Most Improved Player (2000)
Baltic League D2 Champion (2005)
Lithuanian LKL All-Star Game (2005)
Eurobasket Lithuanian League All Imports Team (2005)
Baltic 2nd Div. League MVP (2005)
Baltic League All-Star Game (2006)